| | |
| --- | --- |
| 2002-07-07 | |
CREATED BY chris • LAST EDITED BY chris 6003 days AGO
---
[create Sun Ace]:



research.sun.com/features/ace/index.html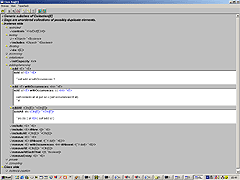 Vor ungefähr einer Woche wurde — schliesslich und endlich — Strongtalk releast (die Smalltalk-Teile unter einer BSD-artigen Lizenz, die VM itself leider nur als Binary). Strongtalk war zum damaligen Zeitpunkt die wohl performanteste Smalltalk-Implementierung ever (und ist das wahrscheinlich auch heute noch). Die Firma dahinter, Animorphic, wurde 1997 von Sun gekauft und widmete sich in weiterer Folge exklusiv der Beschleunigung der Java-VM. Das omnipräsente Resultat: HotSpot.

Der obige Screenshot zeigt das Outliner-basierte Programmier-Environment (courtesy of Steffen Grarup). Das "Glyph"-basierte graphische Interface führt generell (wieder einmal, so wie beispielsweise auch das in Bluebottle enthaltene klassische Oberon System 3) vor Augen, dass wir mit HTML/DOM/Java-Applets wahrscheinlich nicht die beste aller möglichen Flyweight-Components-Welten bekommen haben (obschon sich mit der DOM-Konvergenz und Flash MX bspw. vieles in Richtung Schön & Gut oder zumindest workable entwickelt und die völlige Umgebunsgebundenheit sowohl des Glyph- als auch des Gadgets-Subsystems als etwaigen Durchbrüchen wahrscheinlich nicht gerade förderlich nicht unerwähnt bleiben soll).



www.cs.ucsb.edu/projects/strongtalk/

"What does [create Pink] sound like? Designing the Audio Interface for the [create TalOS]" Bluebottle: Läuft unter VMWare, wenn auch (wahrscheinlich des generischen Display-Drivers wegen) eher langsam.
---

SEARCH
---

GET YOUR MOVE ON
---

ALMOST ALL ABOUT YOU
---
So log in, fella — or finally get your langreiter.com account. You always wanted one.
---
Nearby in the temporal dimension:
Nobody.
... and 82 of the anonymous kind.
---
Click on

for a moderate dose of lcom-talk. This will probably not work in Lynx and other browser exotica.
THIS DAY IN HISTORY
---
2008 / 2007 / 2003 / 2002
BACKLINKS
---
none
RECENT EDITS (MORE)
---

films-seen

Blood Stone

y!kes

wet towel

B Studio

Pilcrow News

Nastassja Kinski

2011-10-06-steve

2011-10-06

comment-2011-08-04-1
POWERED BY
---

&c.
---
GeoURL
RSS 0.92
FRIENDLY SHOPS
---
Uncut Games bei Gameware
OFFEN!
---
Offenlegung gem. §25 MedienG:
Christian Langreiter, Langkampfen
See also: Privacy policy.