| | |
| --- | --- |
| 2003-05-27-blogBack | |
CREATED BY chris • LAST EDITED BY chris 5679 days AGO
---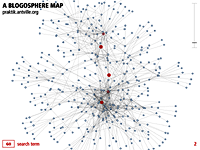 Wieder zurück im Land der Berge aus dem Land der Blogs (und Blogverfassgerätschaften) nach einem sich summa summarum gelohnt habendem BlogTalk-Besuch. Merci beaucoup an Monsieur Burg und Konsorten, Kopräsentator Monsieur Tscherteu - und besonders auch den Leuten von Knallgrau für den präkonferentialen Heurigen. Konferenzen wie diese können den immerpräsenten Wermutstropfen der Nonexistenz einer Art EurO'Reilly zumindest für ein paar Tage vergessen lassen.
---

SEARCH
---

GET YOUR MOVE ON
---

ALMOST ALL ABOUT YOU
---
So log in, fella — or finally get your langreiter.com account. You always wanted one.
---
Nearby in the temporal dimension:
Nobody.
... and 48 of the anonymous kind.
---
Click on

for a moderate dose of lcom-talk. This will probably not work in Lynx and other browser exotica.
BACKLINKS
---

2003-05-27
RECENT EDITS (MORE)
---

films-seen

Blood Stone

y!kes

wet towel

B Studio

Pilcrow News

Nastassja Kinski

2011-10-06-steve

2011-10-06

comment-2011-08-04-1
POWERED BY
---

&c.
---
GeoURL
RSS 0.92
FRIENDLY SHOPS
---
Uncut Games bei Gameware
OFFEN!
---
Offenlegung gem. §25 MedienG:
Christian Langreiter, Langkampfen
See also: Privacy policy.