Donnerstag, 1. Januar 2004
---
Grüss ihnen!

Inventur, gar keine schlechte Idee.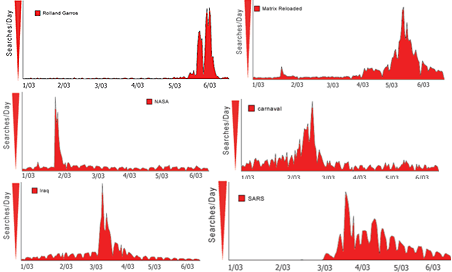 I still wonder whether OCaml is worth getting into, but if learnlust should suddenly overcome me:



Learning OCaml, for C, C++, Perl and Java programmers"IPython has many features for object introspection, system shell access, and its own special command system for adding functionality when working interactively. It tries to be a very efficient environment both for Python code development and for exploration of problems using Python objects (in situations like data analysis)." — Good interactive environments rock.

Inspired by Mathematica, IDL and [create Mathcad].



ipython.scipy.org
---
manu-el 6967 days AGO
O'Caml ist auf jeden Fall eine der Sprachen die laut Alan Perlis wert ist gelernt zu werden, nämlich eine die die Art wie man über Programmierung nachdenkt ändert.

Ich glaube aber dass diese Intro besser geeignet ist: http://caml.inria.fr/oreilly-book/. Nach der Lektüre derselben ist man schon relativ sattelfest. (Ich habe auf dem Chaos Congress gerade einem C++ hacker eine mehrstündige OCaml intro gegeben, der daraufhin gesagt hat, er wird jetzt wohl alle seine C++ Projekte abbrechen, und in OCaml coden, da alles andere sinnlos wäre.)

Me myself, ich widme mich nach einiger Zeit OCaml und Scheme wieder dem mudball of strenght, Common Lisp. Ist zwar dirty, aber gets things done.

---
chris 6967 days AGO
Merci beaucoup!

(Wollte mit dem Posting primär deinen Kommentar provozieren [im positivsten Sinne], gelungen ;-)

O'Caml wandert auf den Syllabus '04.

"mudball of strenght", grandios.
---
manu-el 6966 days AGO
Aber gerne :)

Meine drei lieblingsfeatures von OCaml, die CL vertragen würde sind:

- statisch gecheckte typen (aber bitte checking lokal abschaltbar :)

- low overhead syntax

- very much curry/natural schönfinkelling

Umgekehrt würden sich in OCaml

- S-expressions,

- multimethods/open classes

- die code=data philosophie

- alle typen bei default arbitrary length/precision

gut machen.

Beiden fehlen die lightweight lambdas von smalltalk.
---
manu-el 6966 days AGO
S-expressions in OCaml als optionale daten- und/oder code-syntax.
---
Please log in (you may want to register first) to post comments!
---

SEARCH
---

GET YOUR MOVE ON
---

ALMOST ALL ABOUT YOU
---
So log in, fella — or finally get your langreiter.com account. You always wanted one.
---
Nearby in the temporal dimension:
Nobody.
... and 29 of the anonymous kind.
---
Click on

for a moderate dose of lcom-talk. This will probably not work in Lynx and other browser exotica.
THIS DAY IN HISTORY
---
2011 / 2010 / 2009 / 2008 / 2007 / 2005 / 2004 / 2003
BACKLINKS
---
none
RECENT EDITS (MORE)
---

films-seen

Blood Stone

y!kes

wet towel

B Studio

Pilcrow News

Nastassja Kinski

2011-10-06-steve

2011-10-06

comment-2011-08-04-1
POWERED BY
---

&c.
---
GeoURL
RSS 0.92
FRIENDLY SHOPS
---
Uncut Games bei Gameware
OFFEN!
---
Offenlegung gem. §25 MedienG:
Christian Langreiter, Langkampfen
See also: Privacy policy.